Moving from one home to another often presents a number of challenges along the way – from finding a reputable moving company to packing up your things safely for transport. But if you choose to also take with you some or maybe even all the furniture pieces you own, then the difficulty level of your move will definitely jump up a few notches.
Moving furniture to another home is a tough job simply because most furniture units are both too big and too heavy to be handled comfortably by one person, or sometimes even by two people. What might make the job even tougher for you is that some furniture items can have high sentimental value – such as antique furniture, for example.
If you decide to move any furniture with you, regardless of whether it's antique or not, you must make sure the pieces are adequately protected so that they can survive the move unscathed.
Here's how to pack furniture for moving so that it stays perfectly safe throughout the move.
Make sure you've completed the major pre-packing tasks
There are a few important tasks you should do before you can start packing your furniture for moving. Keep in mind that the preparation stage is as important as the actual packing stage, so you shouldn't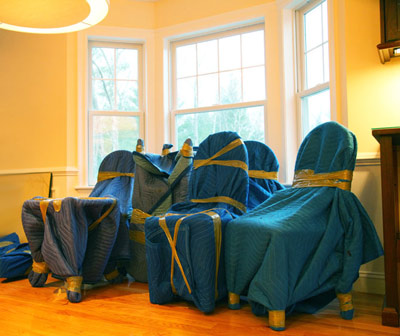 skip any of the preparation steps below:
Inventory your furniture items

. Before you start wrapping up your furniture for a move, you just have to know what you're dealing with in terms of the number and type of furniture. So, go from room to room and create a detailed inventory of all the furniture items found in the home. Pay close attention to the current condition of each piece since that will determine to a large extent what you do with it later on.

Decide which furniture pieces you'll take with you

. The next thing you have to do before protecting your furniture for moving is to decide which furniture pieces you'll move with you to the new home and which ones you'll simply leave behind. This is a crucial step as it'll determine how much time you spend on packing your furniture and how much time you'll end up paying for transporting those bulky pieces.

Get rid of the furniture you're not taking with you

. Unless you choose to move all the furniture pieces you own, you'll need to figure out what you'll do with the ones you're leaving behind. Consider selling them, giving them away to friends, or donating them to charity.
Get the proper packing materials
You won't be able to pack up your furniture for moving without the right type of packing supplies. Here's what packing materials you'll have to prepare before the actual furniture packing process can begin:
Furniture blankets

. You must get your hands on soft and thick blankets that are known as furniture blankets. Their main purpose is to create a padding layer around the breakable furniture items, thus protecting them against accidental scuffs, scratches, dents, scratches, or breaks. The padding blankets will also prevent your furniture pieces from getting dusty or dirty during the move

Plastic wrap

. By using plastic wrap during the furniture packing process, you'll be able to secure the moving blankets onto the furniture pieces. Also, plastic wrap will protect small components you have detached safely from the large furniture.

Bubble wrap

. Use bubble wrap to protect extra-fragile furniture elements, as well as protruding parts which you haven't disassembled for one reason or another.

Cardboard

. Sheets of thick corrugated cardboard can provide an excellent level of protection for delicate furniture elements such as glass doors or glass panels. Also, you can use cardboard to safeguard the corners and edges of your furniture items.

Packing tape

. Similar to plastic wrap, you're going to need packing tape to secure the padding blankets over the furniture items you've chosen to move with you.
Top 6 Moving Mistakes to Avoid on Your Move
Empty and clean the furniture
This step will increase the overall safety of your furniture units so don't make the mistake of skipping it even if you don't find it too essential. So, what you need to do is empty your furniture pieces and then clean them before packing them up.
Why do you need to empty your furniture before packing?
First of all, any furniture unit will become lighter when you remove what's inside it or on it. Basically, this means that you'll be able to lift and carry the piece when it's lighter, and also maneuver it safely out of the home before you load it up into the awaiting moving truck.
So, remove all items that are situated inside or on top of the furniture unit you plan to pack. If you're moving a china cabinet, for example, you can't afford to leave any of the super-fragile items inside it. So, get everything out and pack those things separately into suitable boxes but not before you protect them individually.
Why do you need to clean your furniture before packing?
If you think that cleaning your furniture before packing it for moving is pointless, think again.
Yes, you may still need to clean it after the move but the reason why you should do it prior to packing is that dust and dirt could scratch out the delicate surfaces of some of your pieces. Also, dust might cause bad stains on the leather upholstery of couches or chairs, for example.
So, vacuum any dust or debris from your furniture units before packing, then consider wiping them down with a clean cloth and a cleaner suitable for either wood furniture or leather furniture.
5 Tips When Moving Out for the First Time
Disassemble the large furniture
In most cases, you're going to need to disassemble your largest furniture units partially in order to make them smaller, lighter, and easier to navigate out of the home.
Here are a few tips that should help you disassemble your big furniture pieces without any complications whatsoever:
Follow the disassembly instructions for a furniture piece if you're unsure how to proceed. If you don't have them, look for them online or contact a reputable furniture store in the area.

Take out any drawers;

Remove any detachable parts that are designed to be removed safely such as doors, shelves, panels, and so on;

Detach any protruding furniture elements such as legs, armrests, handles, or ornaments. Those protruding components are likely to give you the greatest trouble so make sure you remove them, if possible at all;

Remove any large glass elements such as glass shelves, glass panels, mirrors, and even glass tabletops;

Make sure you keep all small fastening elements such as bolts, screws, nuts, washers, and so on in a safe place, preferably in a plastic resealable bag. Whatever you do, just don't misplace that bag during the actual move – if you do, you'll have serious trouble re-assembling your furniture after the move.
Wrap the furniture in protective materials
Now you should be ready to pack your furniture. Bear in mind that this is a crucial moment so you should put in the required effort to make it work.
Use sheets of bubble wrap to protect all super-delicate elements of your furniture pieces. The bubble wrap will create a thick, soft protective layer around the fragile parts and will keep them safe;

Cover all glass surfaces with sheets of thick cardboard and secure the cardboard pieces using bits of masking tape, then wrap them completely in furniture blankets for additional protection;

Place soft and clean wrapping paper in hollow spaces for extra protection;

Wrap all detached furniture elements in moving blankets, then use tape to secure the pads;

Wrap all furniture units entirely in furniture blankets without leaving any areas of the furniture exposed. Use tape to secure the protective coverings;

Use shrink wrap over the padding blankets for your most valuable furniture pieces. The outer layer of plastic wrap will keep dust, dirt, and moisture from reaching your prized furniture during the actual relocation;

Insert your mattress into a special mattress bag made from thick polyethylene material. The plastic cover will protect your expensive mattress against dust, dirt, rips, and moisture.
Moving furniture from one home to another is a tough job that can easily become dangerous on the day of the move. For your peace of mind, hire professional furniture movers who will get the job done quickly and safely.