If you've made up your mind to use professional moving services for your upcoming house move, then it makes all the sense in the world for you to try to be one hundred percent ready for the arrival of your movers.
Now that you've solved the major initial dilemma (movers or DIY?), all you need to do is to take care of several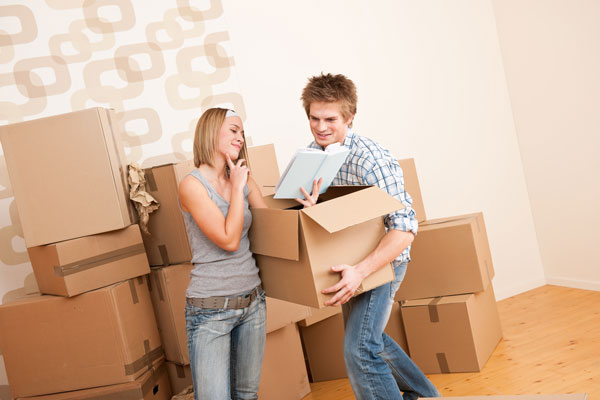 important tasks before the pros knock on your door on Moving day.
The thing is that even if you've done yourself a big favor by hiring full-service movers, you're still going to need to complete a few crucial jobs before the moving team makes a scheduled appearance.
What to do before movers arrive?
Here are the top things you just have to do to prepare for your movers in the best possible way.
Remember that you surely wouldn't want to have your moving crew outside your door while you're still far from being ready for them.
If, you want to hire us for your moving day, give us a quick call at (800)850-6353.
Inventory all your possessions
Before your movers arrive, you should have a pretty good idea about which items you're moving and which ones you're leaving behind. So, what you need to do is go from room to room and inventory all your personal belongings – each and every item you own.
In fact, the task of inventorying your possessions is something that you need to complete way before Moving day – in other words, at the very beginning of your preparation.
You can use the old-school pen and paper method to create a detailed inventory of your things or you can use an electronic device (computer, tablet, smartphone) to help you out. Whichever way you choose to do it, make sure you mark the type, quantity, and current condition of each item you own.
The detailed inventory of your home will serve two distinct purposes: 1) it'll help you decide which items to take with you, and 2) it'll be your packing list with which you will check the delivered items.
Purge your home of unwanted items
One of the most important things you should know when preparing for movers and packers is that the moving cost is linked directly to how many items you choose to take with you to the new home.
When you're moving across the country (an interstate move), long-distance movers will charge you based on the move distance and the total weight of the shipment. This means that the fewer items you're hauling, the less money you'll pay in the end.
When you're moving locally (an intrastate move), local movers will charge you by the hour. What this means is that the more things you have for packing and moving, the longer the move will take – therefore, the more money you'll have to shell out.
So, purge your home of any useless items before your movers arrive. Consider giving away those things for friends and family, donating them to charity, or selling them for a profit.
Dispose properly of dangerous items
Professional movers are not allowed to transport any hazardous items that could endanger the movers' safety or the well-being of the rest of the household items in their truck. In other words, there's a list of forbidden items that your movers won't agree to pack and move for safety reasons.
Get in touch with the moving company you've picked as your relocation partner and request the list of non-allowable goods so that you know in advance which items you should dispose of properly before the movers arrive in your home.
Generally speaking, all items that are corrosive, explosive, or flammable are not allowed to be transported by a moving company. Also, perishable foods are also forbidden because they can go bad on the road and possibly attract rodents in the process.
So, make sure you dispose of all dangerous goods such as chemicals, fuels, oils, paint and paint thinners, acids, dyes, etc. in a safe and environmentally friendly way before your movers come.
Pack whatever you can by yourself
Preparing for moving is not always easy to do and time management becomes a crucial factor for the success of your relocation. So, unless you've opted for the add-on service of professional packing, don't waste any precious time and start packing up whatever items you can pack on your own.
Packing for a move can take many days to complete, so a general rule of thumb when packing by yourself is to double the time you think you'll need to complete the task. Professional packers are trained to pack very efficiently – however, you're not a professional, so you couldn't possibly pack as quickly and safely as they can.
The good news is that there are many things you can pack on your own – clothes, shoes, books, bedding, etc., so you should start working on your packing checklist without any delay. Leave to professional packers only the household items that are too difficult or too risky to pack safely such as furniture, appliances, and any specialized items.
Prepare essentials boxes for each family member
What should you do before movers arrive? You should pack up your essentials boxes, of course.
As you can guess from the name, an essentials box will contain nothing but essential items that you will need while your possessions are being transported by the company, and as a result, you don't have access to them.
Think about it – it can take a few days before your household items get delivered to the new address, so what are you going to do in the meantime without your most frequently used bathroom items, for example? When moving with young children, the necessity of packing an essentials box for each family member becomes even more vital.
Open-first boxes should also contain prescribed medications, some basic tools, necessary kitchen items, and of course – the electronic devices you can't live without even for a single day.
We offer affordable rates, high-quality service and quick execution – get a free quote now.
Ask friends to help you pack
Using a moving company for the first time can be a highly positive experience provided that you're ready for the arrival of your movers. Basically, your preparation level will be different depending on whether you've decided to get professional packers to protect your prized possessions for the road ahead.
In case you've opted to complete the packing job on your own, then you should seriously consider asking some of your best friends to help you pack your things faster. Remember that packing will be the most time-consuming task on your moving calendar so any friendly assistance will prove to be more than welcome.
Get in touch with your pals as early as you can so that you don't disrupt whatever plans they may have. Also, be honest about why exactly you will need their help – in this particular case, they should be glad to hear that you need their assistance for packing and NOT for lifting and carrying heavy furniture.
Take safety measures for your kids and pets
One of the best ways to prepare for movers and packers is to make sure that you and your family members, including any pets you have, remain perfectly safe during the most dangerous day when moving to a new house – Moving day.
Gather your family and discuss the roles of each one when movers arrive. Hopefully, the trained professionals will take care of everything so you and your family won't have to do anything at all.
Nevertheless, there are a couple of safety steps that you must take on the day of the move:
      Arrange for your young children and pets to stay in a room that's far from the packing and moving action.

      Ask a person you can trust to look after your kids and pets while you're with your movers in case the pros have any questions for you.
Be ready for the arrival of your movers
Now you know how to prepare for movers to pack (if you've requested the add-on service of professional packing) or move your household items to a new address.
Here are just a few more steps that will help you get 100% ready for the arrival of the moving team.
     

Prepare some money for tips

. You're not obligated to tip your movers but if you are really pleased with their work, their professionalism, and their attitude, then you should definitely consider rewarding their hard work with appropriate tips. So, prepare some money for tips – generally speaking, $40-$50 per mover for a great job is considered to be a decent tip.

     

Be a good host

. Offer your packers and movers bottled water and show them where the bathroom is. If you want, you can even prepare some snacks for them – after all, it's in your best interest to keep their energy levels up for prolonged periods of time.

     

Treat your movers with respect

. And hopefully, they will treat you the same. When your movers arrive, show them around, tell them what is expected of them, and let them do their job. And yet, stay close by in case they have any questions for you or there are some issues you need to resolve together with them.