Moving out for the first time can be a daunting challenge because you've never had to move house before. The whole thing can be rather intimidating – you're not sure what you have to do to prepare for the upcoming move in the best possible way and you have no idea what to expect from Moving day itself and the immediate post-relocation period.
Moving out for the first time can also be really tough from financial and emotional points of view.
Have you saved enough money to not only cover the inevitable moving expenses but also begin to live independently without the financial support of your parents?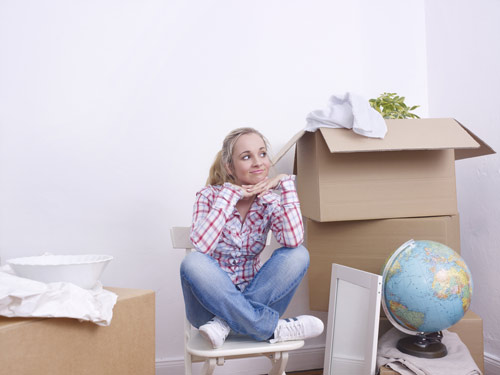 And are you mentally ready for the challenges you'll face once you make that brave step out of your comfort zone?
One of the most important things to remember when moving out for the first time is that the key to a successful relocation is to take things just one step at a time.
First and foremost, your main focus should be to organize a smooth, problem-free move.
We're here to help. Here are the top 5 tips for moving out for the first time so that you, as a first-time mover, can pass successfully your very first relocation test.
Hire a moving company
Since you're moving out for the very first time, it's not wise to start thinking about organizing a self-move. The thing is that you just don't know how things work and your first ever house move is not the right time for courageous experiments with likely dubious results.
All in all, it's too risky to attempt to pull off a DIY move simply because you lack any house moving experience. Nothing beats first-hand experience and that's exactly why you should do the right thing and trust experienced movers that have been there and done that.
When you're planning on moving out for the first time, the best thing you can do is bet on professionalism and experience. Regardless of whether you're moving locally (within the same state) or you're moving to another state in the country, the professional moving company you hire will take care of all relocation details so that you don't have to worry about anything.
Remember to ask professional movers to visit your home for in-home cost estimation so that the price you get quoted can be as accurate as possible and without any last-minute unpleasant surprises.
Get your free moving estimate from Nation Capital Movers to start your very first relocation journey on the right foot.   
Why Hire Professional Movers? 5 Benefits of Hiring Movers
Follow a moving checklist
It's unlikely that you'll know exactly what to do when moving out for the first time. The mere fact that you haven't done something like that before will prevent you from being familiar with the things you're supposed to do in order to make it work.
And that's OK simply because the best thing you can do under the circumstances is to use a detailed moving checklist that will keep telling you not only WHAT you have to do but also WHEN you should do it as well.
In its essence, a moving checklist is nothing more than a to-do list that's tailored to the needs of anyone who's about to move out of their current place and move to another house or apartment.
And since you'll probably have no idea where to start, all you need to do is write down the things that you know that you have to do before moving away. Those must-do tasks will be highly relevant to you – in other words, they will be customized to meet your own relocation needs.
Once you create your own checklist for moving out for the first time, the next step is to prioritize it – it basically means to note down which tasks must be completed with higher priority than the rest.
And finally, when all the tasks in your moving checklist have been personalized and prioritized, it's time to start working on them without delay.
How to Prepare for Movers: Things to Do Before Your Movers Arrive
Move only what you really need
The fact that you have zero moving experience means that there's an elevated chance that you make at least one of the most common moving mistakes.
Some (judgment) errors when moving can be rather serious but you shouldn't worry too much about it simply because you've already trusted a reputable moving company that should help you to steer clear of any costly moving mistakes.
One rookie mistake that you should avoid at all costs is to pack and move all your belongings without sorting them out first and without getting rid of the ones you won't ever use again.
It's important to understand that the moving price will be based on the weight of the shipment to be moved between the two homes – meaning that the more things you choose to take with you, the more money you will pay for their transportation.
Inventory your home and inspect each and every item you own in order to decide what you should do with it. Don't bother packing and moving things that you've never liked and don't intend to use in the foreseeable future.
Think about it: does it make any sense to pay to move any items only to store them indefinitely in the new home and never get to use them? No, it does not.
So, do not take any unwanted items with you when you're moving out for the very first time.
Get most of the packing supplies for free
Follow this guide to moving out for the first time and you should have a trouble-free move from start to finish.
Moving on a limited budget is no fun. However, there are a number of cost-saving techniques that you should use throughout the preparation stage to lower the moving costs as much as possible. One such way to keep moving expenses to a minimum is to get most or all of your packing materials for free.
According to statistical data, the average number of cardboard boxes needed to pack up one home is around 60, so getting your hands on free moving boxes should be your priority. Where to find free boxes for moving?
First of all, ask your friends, work colleagues, and neighbors if they happen to have any cardboard boxes they don't really use. The easiest way to do is to use your preferred social network platform to publish your call for help.
Secondly, take a quick tour around the largest retail stores in your area, speak with their respective managers, and see if they have clean cardboard boxes of various sizes. Oftentimes, you'll also find a good deal of discarded wrapping paper and bubble wrap that you can use for your packing needs.
Important: Even though you're getting some of your packing supplies without paying for them, inspect each box carefully and accept only the containers that are sturdy, clean, dry, and have no signs of water damage
Pack whatever you can by yourself
When you're moving out for the first time to a new state, it's relatively easy to assume that you won't be able to afford to pay professional packers to pack up all your things for you. Professional packing is an extra service that you don't have to request as long as you have enough time to prepare adequately before your move-out date.
But here's the thing – you haven't moved house before so you really don't feel confident in your own packing skills. How do you make it work then?
The answer's simpler than you think: pack whatever items you can by yourself and leave the stuff that you can't handle on your own – large furniture, extra-fragile items, specialty items, and so on – to professional packers.
The good news for you as a first-time mover is that some household items are pretty straightforward to pack for moving. As a bonus, things such as clothes, shoes, bed linen, and even books are not fragile and can be relatively easy to box up safely. You don't even need any packing experience to figure out how to pack your clothes into large cardboard boxes – except maybe for your expensive hanging clothes.
Make sure you begin to pack up your things as soon as possible so that you give yourself more time to handle the task prior to Moving day. If you happen to get stuck during the packing process or you realize that you've fallen way behind your packing schedule, then don't hesitate to ask professional packers to help you out.