Top-Rated Moving Services by Nation Capital Movers in Reston, VA
Moving seems like a daunting task, but it can turn into an exciting adventure when you have the right moving partners by your side.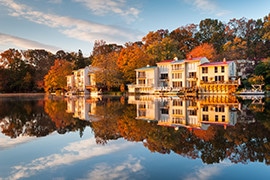 If you're planning a move to or from Reston VA, you can count on Nation Capital Movers being there for you. We're licensed, bonded, and insured movers with many years of experience helping people relocate and settle in their new homes. Our company is accredited with the Better Business Bureau and has received excellent reviews for its quality moving services.
Dependable Local Movers in Reston, VA
Whether you're moving to a new home in Reston or to a nearby city in the state of Virginia, Nation Capital Movers can help you relocate in a timely and efficient manner – by hiring our trustworthy moving services, you'll effectively eliminate the stress of moving, ensure the safety of your belongings, and guarantee your smooth relocation.
Give as a call at (800) 850-6353 to book your local move in Reston, VA and rest assured in the success of your relocation adventure.
Long Distance Moving Solutions
If you're moving out of state, Nation Capital Movers is, once again, the right choice for you – we offer first-class long-distance moving services to help people in Reston relocate in a safe, quick, and trouble-free manner, regardless of where in the U.S. they're moving to.
Being one the top-rated Reston moving companies, we're properly licensed for interstate moves and have the specialized moving equipment and professional know-how to provide all kinds of cross country moving services, including packing, custom crating, furniture disassembly, safe transportation, short term storage solutions, long term storage, storage-in-transit, online shipment tracking services, unpacking, etc.
Your relocation will be easier than ever with Nation Capital Movers – just fill in our free moving quote to get started on your long distance move from Reston, VA to any part of the country (or vice versa). You will be more than happy with your relocation experience!
Trusted, licensed and insured moving company