A house move is usually hard work from start to finish, especially if you choose to organize a Do-It-Yourself move without any professional assistance of any kind. Moving by yourself can be really tough if you happen to lack any move-related experience at all. But regardless of whether you're moving out for the first time or you've survived multiple house moves before, the relocation process doesn't have to be too difficult in the end.
Here's the thing: as long as you are aware of some good ways to make moving easier for you and your family, your own move should become fairly stress-free and uncomplicated (hassle-free).
It's true that moving house can be a real challenge but your move doesn't have to follow the same pattern. Do yourself a favor and follow these 7 tips for making moving easy.
Hire top-rated movers to make your life easier
Without a doubt, the best way to make your move easier – MUCH easier – is to hire the services of a full-service moving company that will do everything for you.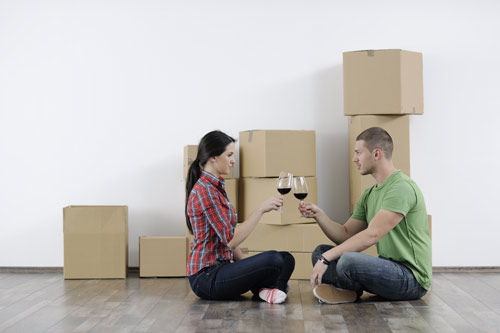 No matter if you're moving only a short distance away (local moving) or moving across the country (long-distance moving), the experienced professionals you hire will not only transport your prized possessions to wherever they need to go, but they will also offer you a number of add-on services such as packing, disassemble and reassemble of furniture, temporary storage, and even unpacking if that's what you want.
Using one of the best moving companies near you will not only save you precious time (highly skilled and rigorously trained packers are able to pack all types of household items several times faster than you could ever do it), but it'll also guarantee the highest degree of safety on Moving day – the most dangerous period throughout the relocation.
By knowing that your possessions are in good hands, you should be able to relax more and even enjoy your move to some degree – if this is possible at all.
Get a free quote from Nation Capital Movers for a deserving peace of mind and an excellent chance to experience the easiest house move yet.
Use a moving checklist to organize your time
When you're getting ready to move out, you must make sure you're not wasting any precious time by not doing anything simply because you have no idea what you should do next.
Bear in mind that one of the worst things that could happen to you during a move is to have tons of essential tasks left to do when moving day arrives. It's safe to say that time management when moving house is critical for the success of the whole relocation operation.
So, be sure to follow a good moving checklist. A detailed to-do list of the things you have to do before, during, and after a house move will help organize your time in the best possible way.
As a bonus, a moving checklist should also decrease the level of stress you must be feeling simply because each completed task will mean you're getting one step closer to your goal – to be 100% ready before the scheduled move-out date.
Top 5 Tips for Moving Out for the First Time
Discard any items that are not worth moving
Moving house is all about making the right choices when it matters the most.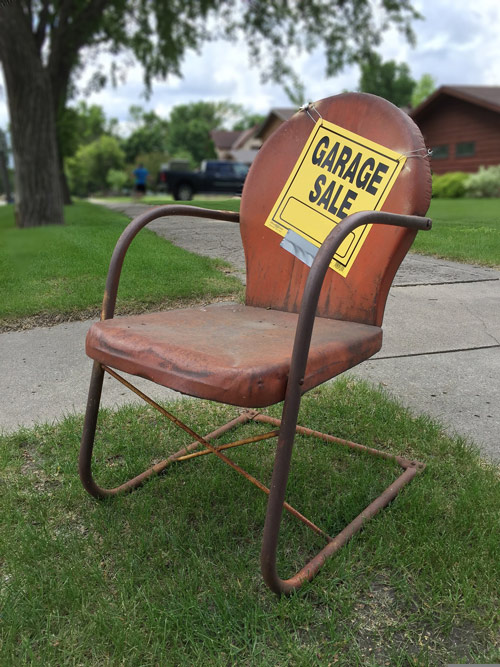 Moving to a new place is never an easy thing to do. However, if you make the mistake of packing and moving all the things currently found in your present home, then you're sure to have a hard time hauling a bunch of things that are just not worth the trouble.
Make your move a lot easier by sorting out your things and discarding the ones that you don't need or want anymore. The thing is that there are clear benefits to moving as few items as possible:
you'll pay less money since the shipment weight will be lower,

you'll save time and packing supplies when being left to protect fewer items, and

you'll save valuable storage space in the new house or apartment.
Make a detailed home inventory by going from room to room and then use that inventory sheet to decide the fate of each item you possess. As a bonus, you can try to sell the unwanted items at a garage sale, thus adding more much-needed dollars to your moving budget.
How to Prepare for Movers: Things to Do Before Your Movers Arrive
Think twice before moving any large furniture
How to make moving and packing easy? OK, this one is easy – just don't take any large and heavy furniture with you.
The thing to remember when you're getting ready to move out is that unless you own antique furniture with high sentimental value, moving furniture is seldom worth the hassle, especially when moving several hundreds or even thousands of miles across the country.
Here are the major reasons why you should really stop and think before you decide to move any large furniture pieces with you:
Moving bulky furniture is expensive because you'll be paying for the extra load on the truck from your pocket;

Moving furniture long distance is almost never worth it because the transportation costs are likely to be higher than purchasing brand-new furniture after the move;

Lifting and carrying big and heavy furniture units on moving day can be rather dangerous – you'll need proper moving equipment (a furniture dolly) and reliable friends to help you keep bad accidents away.
If possible, sell the furniture pieces you won't be moving with you or consider gifting them away to friends or family. As a rule of thumb, IKEA-like furniture is very seldom worth the trouble of moving it to a new home.
Get your packing materials in advance
It doesn't get any easier than having professional packers come to your home to wrap up and protect your belongings in the best possible way. The pros will come with all the required packing supplies too, so everything will be taken care of while you get some unexpected free time to say goodbye to your dear friends, for instance.
But if you've decided to complete the packing task on your own, then you're going to need all the packing materials in advance so that you don't lose precious time later in search of extra cardboard boxes or more bubble wrap for your breakables.
All in all, one of the best ways to make moving easier and less stressful is to make packing easier for you and your helpers. Why? Packing for a move will be the most time-consuming and energy-demanding task on your moving checklist so anything you can do to make it easier will be of great help.
Cardboard boxes, wrapping paper, bubble wrap, packing tape, and a set of markers will be the main packing supplies you'll need to secure in advance. Feel free to use free moving boxes in good condition in order to lower your packing expenses.
6 Big Moving Mistakes to Avoid on Your Move
Initiate packing ASAP
As mentioned above, packing for a move is the toughest job you'll have on your moving calendar. So, if you can find a good way to make packing easier, then you'll end up making your entire house move way easier to handle.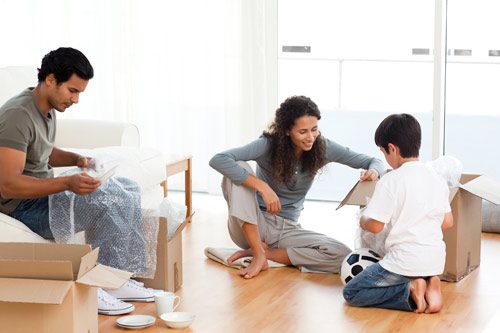 One of the best ways to make moving easier and more efficient is to start packing as early as the move is confirmed. By doing so, you will increase greatly your chances of tackling packing on time – that is, you'll be done with packing prior to moving day itself.
Initiating the packing job as soon as possible is critical but you also have to be efficient in it in order to make the required progress. As a rule of thumb, you should begin packing from the rooms that are harder to sort and pack due to the large number of miscellaneous items in them – those are usually the storage rooms such as the garage, basement, closet, and any spare rooms you may have.
Why? The reason is simple enough – this way, you'll be left with the rooms that are usually easier to pack up when you've already exhausted and demotivated from the days spent packing.
Ask your friends to help you
The thing to remember is that moving house is not meant to be handled by one person. Instead, it must be a collective effort in order to be successful in any way.
To make moving easier on yourself, do consider asking your best friends to give you a hand with packing up your stuff or with moving heavy boxes and large furniture out of the place on the day of the move. The truth is that the more helping hands you manage to secure, the easier and safer your house move will be.
Remember to reach out to your pals as early as possible to avoid disrupting their own plans with your request for moving help.
It's never easy to ask your good friends for a favor though. So, if you feel nervous about burdening them with your own problems or you can't seem to find anyone who's willing to lend you their time and muscle power, then you won't have a choice but to resort to professional moving services.