Moving house is a process that's been proven again and again to be both stressful and expensive.
Interestingly enough, there's a strong correlation between the two: a house move is stressful partly because it can be a costly affair. When you're moving on a budget, every single dollar you manage to save is a mini-battle that you've won.
After all, who would want to drain their entire savings account on an upcoming move? Nobody, of course.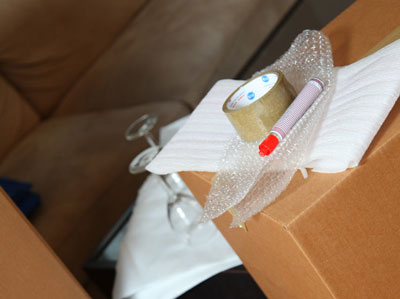 One way to keep more money in your pocket when moving to a new home is to get free packing materials and use those to protect your belongings. You would probably be surprised to learn how much money you can save only by taking the time and putting in the effort to find free packing supplies.
Now, your decision to pack up your things by yourself is set to save you money (as long as you can handle the tough task, that is) but you can try to go a step further and save even more money by finding and using free moving supplies during the house packing process.
Read on to find out where to get free packing materials.
Is it worth getting free packing supplies?
The big question is whether it'll be worth looking for and finding free moving supplies in your particular case. To know for sure, you need to figure out what you're going to WIN and what you're going to LOSE if you do decide to secure boxes, bubble wrap, and packing paper for your packing needs without paying for them.
By not buying your packing materials brand new, you'll be able to save MONEY. Now, how much money you get to save in the end will depend on a number of factors but generally speaking, the average cost of the packing supplies when one is moving out of a 3-bedroom home is about $250-$300.
And even though you're likely to spend some gas money while looking for those free materials for packing, you should still be able to save a good amount of dollars simply by deciding to use second-hand boxes (mainly) and maybe some bubble wrap and wrapping paper as well.
So far, so good. The thing is that the task of scoring free moving materials will take TIME – a valuable commodity that you may or may not afford to lose depending primarily on how much time you have until the move-out date.
It's really hard to place a price tag on your time, and it's even harder to know exactly how many hours you're going to need to track down those used packing supplies.
Nevertheless, provided that you have ample time until the day of your move, it should be definitely worth it to secure packing materials for free – after all, saving around $300 or more on your local or interstate move is never a joke.
Top 5 Tips for Moving Out for the First Time
What packing materials can you get for free?
It should feel great to get the required packing supplies for free, right? That is especially so when you know that you would have paid a few hundred dollars for them if you had bought them from an office supply store, a local moving company, a local truck rental agency, or online.
But what types of packing supplies can you find without paying anything for them?
Cardboard boxes
Cardboard boxes are the major type of packing materials you will need to complete the packing task. In other words, it's practically impossible to pack up your things for moving without using containers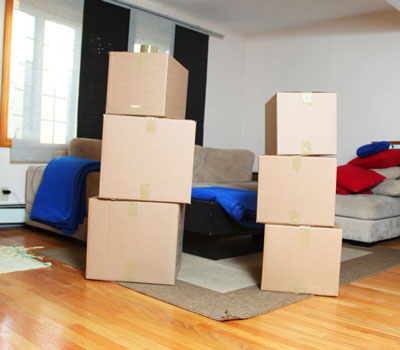 made of corrugated cardboard.
Even though your plan is to save money by scoring free moving boxes, you should always reject containers that are not strong enough, not clean enough, and not dry enough. Inspect each box carefully before you decide to take it – it shouldn't have any signs of infestation either.
How many free moving boxes will you need to complete the packing job by yourself?
It's really hard to say an exact number but on average, you're going to need approximately 14 medium boxes, 12 large boxes, and 7 extra-large containers for your packing needs when moving out of a studio apartment. Multiply those numbers by 2 when you're moving out of a 2-bedroom home and by 3 when you're moving out of a 3-bedroom house.
Bubble wrap
Bubble wrap provides an outstanding level of protection for any fragile items you're about to pack up for the upcoming move. The air-filled bubbles serve as a soft cushion and keep your breakables well-padded during transportation.
When it comes to free packing supplies, it's important to know that usable free bubble wrap will be more difficult to find than free moving boxes. You can still find some, of course, but you will need to know where to look and you will also need a bit of luck too.
Packing paper
Wrapping paper will be the first layer of protection for most of your things, especially fragile items that have delicate surfaces such as ones made of wood, glass, or leather. The paper will provide good protection against shocks, dirt, and moisture during transit.
Also, packing paper is ideal for padding and cushioning your things when you've already packed them into cardboard boxes. Bear in mind that breakable items should not be moving inside their containers during the actual transportation.
Similar to bubble wrap, packing paper is not easy to find for free. The main reason for this is that most paper sheets get badly worn out or torn up even after a single house move. Nevertheless, it's still possible to score free packing paper as long as you know where to look for it.
Top 7 Tips for Making Moving Easy
Where to get free packing supplies
Now here's the big question: where can you find free packing materials in an attempt to save hard-earned money?
Friends, neighbors, and colleagues
One of your best options when it comes to scoring free packing supplies is to ask your friends and neighbors if they happen to have any boxes, bubble wrap, packing paper, or even packing peanuts that they don't really need.
In fact, you might be surprised by their response – people often store things simply because they may need them in the future. And as time passes, such stored things only prove to take up valuable space inside their homes.
Your friends should know how tough it is to organize a house move so most of them should be willing to help you out if they can. The easiest way to ask your pals, including your co-workers, is to create a Facebook post in order to reach all of them at once.
If you wish, you can opt for the more personal way to ask your friends for packing supplies – the face-to-face method of asking for assistance during this transitional period.
Retail stores in the area
Other great sources of free packing materials are the big retail stores in your town or city. Why? First of all, you will be able to get cardboard boxes of various sizes. And secondly, some of the cardboard containers are likely to contain packing paper or bubble wrap which will make your job even easier.
Here's a list of the retail stores you should tour in search of free packing supplies:
Grocery stores (Supermarkets);

Home Improvement stores;

Furniture stores;

Electronics stores;

Bookstores, and others.
Practically, there are two ways to handle the mission:
you can visit the stores in person and speak with their respective managers about getting any boxes, paper, or bubble wrap they no longer need. After all, those stores are supposed to recycle those packaging materials at the end of the day so in most cases, there's no good reason why you can't have them for free.

you can go directly to the recycle areas of those large retail stores (located usually somewhere behind the buildings) and help yourself with as many supplies for packing as you need. It should be perfectly fine to pick up the packaging materials that those stores have already discarded for recycling – and there's no shame in doing it too.
Online
Another good way to score free moving boxes, free packing paper, and free bubble wrap is to search for them ONLINE.
Think about it: many people are looking for ways to get rid of their packing materials after they move, so one easy way for them is to list them for free on specialized websites. And that's great news for you, especially if the people who offer those cardboard boxes, bubble wrap, and wrapping paper live nearby.
Packing by yourself is a good option when you have enough time until Moving day, you don't have any specialized items to pack for transport, and you can rely on your good friends for assistance. If even a single one of these conditions is not met, then you'd better hire professional packers to get the job done quickly and safely.