Your house move is confirmed and now it's time to begin working on all the move-related tasks on your moving checklist. If you've made the brave decision to pack up your things without any assistance from professional packers, sooner or later you'll reach the kitchen. And once you do, you're going to have to pack all the kitchen items you wish to take with you to the new home.
Packing a kitchen for moving can be a tough job for two main reasons: 1) the kitchen is usually full of too many items that you will need to sort out and pack safely, and 2) most of the kitchen items you are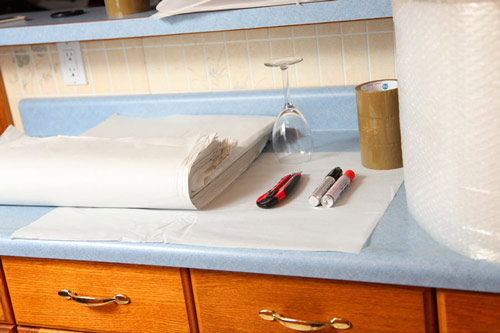 about to pack up in boxes are fragile – that is, they can easily get broken unless you pad them well enough to survive the relocation.
This guide will show you how to pack glasses for moving, both drinking glasses and wine glasses. Just follow the packing steps below to get familiar with the best way to pack glassware when moving to another home.
Get the necessary packing supplies
The very first step is to get hold of suitable packing materials – after all, you can't pack glasses in boxes if you don't have any boxes, right?
Cardboard boxes

. The best boxes for packing glasses are the so-called dish boxes (aka dish packs) because they have thicker walls and are made from stronger cardboard. If you can't find such dish boxes, then regular cartons are fine too – you'll just have to pad them better.

Packing paper

. You'll need plenty of clean, white, acid-free wrapping paper to protect those breakable kitchen items.

Bubble wrap

. You'll need bubble wrap as an extra layer of protection, either when protecting the super-fragile stems of stemware pieces or when packing valuable glassware items.

Packing tape

. A roll of high-quality packing tape should be enough to secure the paper bundles when packing glass items for moving.
Sort out your glasses prior to packing
Even if you're running short on time, you should make sure you sort out your kitchen glasses before packing them up.
The thing is that very rarely will you need to pack and move all glasses in your kitchen. Why? Over time, some of your glassware items will have become cracked, chipped, or stained, so there's really no point in wasting valuable time wrapping them up for transport.
And if you've never liked some of the glasses you own, now is the perfect opportunity to get rid of them before you move to a place. So, go through your kitchen glasses, one by one, and set aside the ones that are just not worth the trouble.
Top 5 Tips for Moving Out for the First Time
Reinforce the cardboard boxes
The next step when packing kitchen glasses for a move is to reinforce the bottom of each cardboard box you intend to use for your glassware pieces.
Is it really necessary to double tape brand-new cardboard boxes? The short answer is yes – it's better to be safe than sorry when packing and moving extra fragile items such as glassware.
Use packing tape of good quality for the purpose of reinforcing the bottoms of your cartons before filling them up. It's simply a precautionary safety step that will give you extra peace of mind that your cherished crystal glasses will safely reach the new home's kitchen.
Reinforcing the bottom of each box with packing tape should take approximately a minute or so of your time so the extra protective step is well worth it.
Pad the inside bottoms of all cartons
Another protective step before you actually begin to wrap up your glassware pieces with paper, and bubble wrap in some cases, is to create a soft insulation layer on the inside bottom of each cardboard box before filling it up.
Why? The extra padding on the bottom will absorb all shocks and vibrations on the road, thus keeping the fragile glass pieces above it as safe as possible.
You have a few good options to do just that – you can
place many wads of crumpled paper (newspaper is also OK) until the bottom is covered up,

lay a few sheets of bubble wrap (torn-up sheets are fine too) along the bottom, or

position several layers of wrapping paper, especially when you can't use those paper sheets for packing.
Wrap each glass in packing paper
It's time to learn about the best way to pack glasses when moving house:
Place the big stack of white packing paper in the middle of the kitchen table;

Take a kitchen glass and place it in the middle of the paper stack;

Take a couple of sheets from one of the corners and carefully tuck them inside the glassware piece;

Wrap the remaining 3 corners over and around the kitchen glass until it is fully covered up in soft packing paper;

Use a few pieces of packing tape to secure the paper bundle and keep it from unfolding during transit.
As you can see, wrapping glasses for moving is no rocket science. Nevertheless, you should still complete the task with utmost case to avoid breaking any of the glassware items found in your kitchen.
Use bubble wrap for wine glasses (stemware)
Now, when packing stemware pieces such as wine glasses for moving, you just have to be extra careful about how you protect their stems. You need to understand that those delicate parts of stemware are the most fragile ones and can break more easily than you think.
As a rule of thumb, when packing wine glasses or other stemware pieces, you should not exert too much pressure onto the glasses for fear of breaking off the stems during the packing process.
When packing wine glasses, you should wrap their stems with thick pieces of bubble wrap and then use tape to secure the protective material. Then, wrap the stemware glasses in wrapping paper as explained above, and finally, add one layer of bubble wrap over the paper one for additional protection.
6 Big Moving Mistakes to Avoid on Your Move
Use bubble wrap for valuable glasses
Even during the sorting process before you start packing glassware for moving, you'll soon realize that some of your glasses are more valuable than others.
On one hand, you'll have ordinary glasses (most often drinking glasses) that have no sentimental value of any kind for you. So, if you do decide to pack and move such glassware pieces, you only need to protect them with wrapping paper as described above.
On the other hand, you'll have expensive glasses (most often wine glasses and other types of glassware pieces) that will be both expensive and valuable. Such glasses, often part of a set, are usually made of crystal and happen to be more fragile than regular drinking glasses made of thick glass.
So, when packing expensive and valuable glasses for a move, remember to always wrap them up with bubble wrap over the initial layer of soft packing paper.
Arrange the glasses in boxes
The next logical step when packing kitchen glasses for moving is to arrange them inside the cardboard containers that you have already prepared for them.
Start transferring each protected glass piece into the box and arrange them carefully one next to the other. When you're done arranging the bottom row, place a large sheet of bubble wrap on top and begin the second row of glassware pieces, if the space allows it.
Arrange the kitchen glasses snugly into the box, leaving as little space between them as possible. This way, you'll prevent any chance of the pieces shifting around the container during transport – something that may lead to bad results for your extra fragile items.
Pad well the boxes
Ultimately, the best way to pack glasses for moving is to do it in the safest way possible.
After you have arranged carefully all glasses inside a cardboard box, tuck pieces of paper or discarded sheets of bubble wrap inside any newly-formed empty spaces among the glassware pieces. When you're done, there should be no holes visible inside the container.
The purpose of the extra padding is to immobilize the items packed inside the box. When there's no movement inside the container, the fragile pieces will stay perfectly protected while being transported to the new address.
To test out the result of your padding effort, lift the box slightly off the ground and shake it gently – you should not feel anything inside it moving around. If you do, add more paper or bubble wrap.
Label the glassware boxes appropriately
When you're done padding the inside of a box, place two sheets of wrapping paper on the top, close the lids of the container, and seal it up using packing tape.
The final step when packing glasses for a move is to label the boxes accordingly. Write down KITCHEN GLASSES, HANDLE WITH CARE, and FRAGILE on each box using a black marker pen. You can also use a red marker in order to draw the attention of whoever's going to handle those boxes that there are super-fragile items inside them.
If you're not sure that you can pack up your kitchen glasses safely, together with a number of other fragile items found in your home, trust professional packers with years of experience in the business.