Packing clothes for moving may seem like an identical task to packing clothes for travel but the former task does have a number of differences that make it more difficult to plan and execute. After all, you don't have to pack ALL (or almost all) your clothes when you're going somewhere on vacation, do you?
Luckily, when it comes to the process of moving from one home to another, the job of packing up your clothes is definitely not as hard as packing fragile items for moving, for example. Your pieces of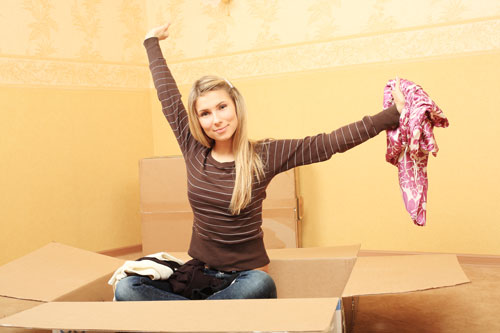 clothing are not breakable in any way so you shouldn't worry about accidentally dropping and breaking any of them during packing.
That's right – your items of clothing are very likely to reach the new place undamaged thanks to their non-fragile nature. Nevertheless, you should still be careful about how your pack your clothes for moving to avoid ruining your best clothes during the transitional period.
Read on to learn the best way to pack clothes for moving.
What to do before packing up your clothes
Even though your pieces of clothing are not fragile in any way, you shouldn't make the mistake of underestimating the packing task.
Here's what you should do even before you start boxing up your clothes.
Start early.

Start packing up your clothes early so that you have enough time to complete the task before moving day arrives. Packing clothes for moving is rather time-consuming partly due to the must-do task of sorting out your pieces before you can transfer them into boxes. So, procrastination will only hurt your chances of finishing the packing job on time.

Sort out your pieces.

Packing up all the clothes you have in the house without sorting them out first often proves to be a serious mistake. Why? Some of the pieces will have become too outdated while others will already be too worn out to be used again. So, you really don't need to waste precious time and lose usable storage by packing and moving clothes you won't ever wear again.

Get rid of unwanted clothes.

Be proactive and discard the pieces of clothing you have decided not to take with you to the new home. You've got good options here: you can gift some of those unwanted clothes to friends and family, you can donate some of them, or you can just throw away for recycling the ones you think nobody will want.

Prepare the containers.

In most cases, you're going to need standard cardboard boxes to pack up your pieces of clothing. For your more expensive clothes, you can use wardrobe boxes that are specialized for the purpose and provide an outstanding level of protection for your designer pieces of clothing. In some cases (explained below), you can even use clean and strong trash bags to pack up your regular everyday clothes.

Group your clothes.

Make packing easier and faster by grouping your clothes according to their size, purpose, and season. As a result, you should be able to speed up significantly the clothes packing job.
How to Declutter Your Home Before Moving
How to pack clothes in standard boxes
Standard cardboard boxes are a great option when it comes to packing clothes for moving cross country. Even when you're being very careful when you fold up and transfer your everyday clothes into the cartons, you're still likely to wrinkle some of your pieces of clothing… and that's fine.
Keep in mind that you should pack your ordinary clothes into cardboard boxes – pieces that you won't mind too much finding somewhat wrinkled and creased after the move. For your more expensive garments, you should seriously consider using special wardrobe boxes (as explained later on in the article).
Here's how to pack clothes in boxes for moving: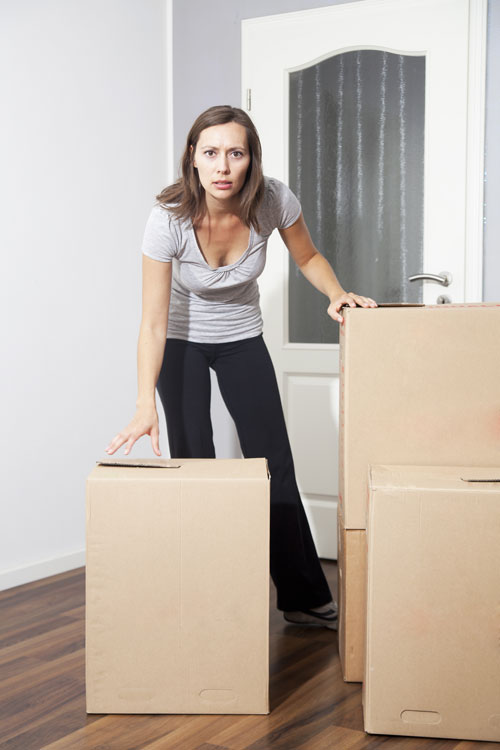 Use only cardboard boxes that are perfectly clean and sturdy enough for the purpose. In an attempt to lower your overall moving costs, feel free to use second-hand moving boxes as long as those containers are clean and strong. Try to get free moving boxes from friends or from local retail stores.

Position a couple of sheets of white, clean, and soft wrapping paper on the bottom of each cardboard container prior to filling it up with clothes. The paper will serve as an additional level of protection for your soft items.

Fold neatly the clothes you intend to pack into cardboard boxes. This will minimize the formation of wrinkles during transit and will let you pack more clothes into one and the same container.

Transfer the folded clothes into the pre-lined boxes. Bear in mind that since clothes are generally lightweight, you can use medium and large cardboard containers to transport your garments.

Arrange your clothes tightly into the boxes but remember to leave enough space on the top so that the lids of the container can close freely, without any extra pressure.

Close up the box when you're ready, then use tape to seal it up.

Take a permanent marker and label the box you have just packed for moving. You can simply write down

CLOTHES

or you can choose to be more specific and label the exact type of clothing inside: for example,

SWEATERS

.
How to Prepare for Movers: Things to Do Before Your Movers Arrive
How to pack clothes in wardrobe boxes
During a house move, you're likely to own expensive formal attire that you'd really hate to see wrinkled or creased when the move is over. And this is exactly why you'll want to pack those special pieces of clothing in specialized wardrobe boxes.
Wardrobe boxes look like miniature wardrobes or dressers for hanging clothes. Those cardboard containers are tall and have a metal bar on the top on which you can place your clothes as they are still hanging from their respective hangers.
Wardrobe boxes do offer the ultimate protection for your hanging clothes but they are not cheap – each wardrobe box costs roughly $15-$20 depending on its size and where you purchase it from.
So, how to pack hanging clothes for moving?
Assemble a wardrobe box and place the metal bar on the top in the designated spot.

Transfer your hanging clothes directly from your dresser (wardrobe) and hang them onto the metal bar of the wardrobe box without taking removing their hangers.

Check to see if any of your hanging clothes are placed in protective plastic bags. If they are, remove those plastic covers, especially during a summer move. The wardrobe boxes will protect your valuable pieces of clothing without the need for plastic covers.

Arrange the hanging clothes fairly tightly one next to the other but don't force them too much to avoid possible damage.

Use any space below the hanging clothes to pack soft, voluminous, and lightweight items such as pillows, for example.

Close the wardrobe box and seal it up with packing tape to protect your expensive clothes from dust, dirt, and moisture.
Top 5 Tips for Moving Out for the First Time
How to pack clothes in garbage bags
If you happen to be in a real hurry and you don't feel like spending extra money on wardrobe boxes, then one unique clothes packing technique you can use is to pack your hanging clothes into trash bags.
Yes, it sounds weird but it's proven to work. Needless to say, the trash bags you'll use have to be brand-new and sturdy enough to handle the load.
Tie together several hangers with the clothes on them using a cable tie or an elastic rubber band.

Make a small hole in the center of the bottom of a garbage bag, then insert the hooks of the grouped hangers.

Pull down the trash bag to cover the whole length of the hanging clothes, then secure the end of the bag with tape to keep dust away.
It's important to note that packing clothes for a move is not a hard thing to do as long as you have ample time to tackle the job on your own. However, if time is against you, then don't hesitate to hire professional movers to help you pack up your things in the best possible way.