The day when you're scheduled to move out can prove to be a confusing and overwhelming period for you. The trouble is that too many things can go wrong on moving day – a single slip could lead to costly property damage or even worse – a painful personal injury of some sort.
Your move-out day will play out differently depending on whether you have hired professional movers to help you move or whether you have decided to organize a DIY move.
Either way, there will be too many things to do on moving day and the outright success of your house move will depend primarily on how well you manage to stay away from the common moving day mistakes most people happen to make when moving house.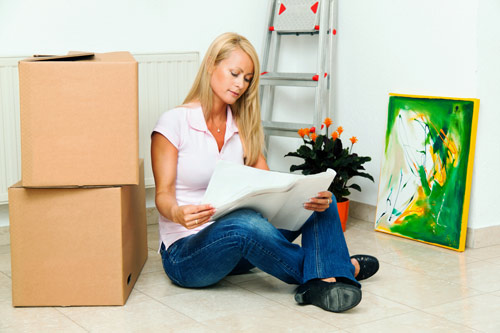 Either way, there will be too many things to do on moving day and the outright success of your house move will depend primarily on how well you manage to stay away from the common moving day mistakes most people happen to make when moving house.
This moving day checklist will list the most important things you should do on the day of your move. The thing is that by knowing what to expect on moving day, you will be quite ready for the challenges you are most likely to face on the most stressful and unpredictable day in the entire relocation.
Here's what to do on moving day – use these practical tips for surviving moving day so that everything goes as smoothly and safely as possible.
Make sure you have secured moving day help
One of the most important things you need to understand when moving to a new home is that the relocation process is not and has never been a one-man affair. In other words, your very first step should be to have adequate moving day help secured for the Big day.
When you're moving across the country, then you just must hire one of the best long-distance moving companies in your area. The reason is simple enough – renting a truck and driving it on your own hundreds or thousands of miles across multiple states is a risky, stressful, and dangerous endeavor. And expensive too.
When working with a reputable and experienced interstate moving company such as Nation Capital Movers, your moving day will be stress-free and your entire relocation experience will be trouble-free as well.
Hiring the professional services of the best movers near you also means getting peace of mind for you and your family. This way, you won't need to worry about how to stay injury-free while hauling big and heavy items around such as bulky furniture pieces.
When using a full-service moving company, you won't even have to lift a finger at all as the pros will take care of each relocation detail for you.
Why Hire Professional Movers? 5 Benefits of Hiring Movers
Wake up early to increase your chance of success
No matter how well prepared you are, there will always be a number of tasks waiting for you to complete on moving day itself. So, to make moving day less stressful, you're going to need to have more time to take care of those last-minute jobs before you move away.
With some many things to do on moving day, time management proves to be a very crucial factor when you're just about ready to leave the current place. So, make sure you wake up early on the day of the move to give yourself more hours until the moving vehicle parks in front of your home.  
Arguably, the worst-case scenario when moving is to be still in bed, peacefully asleep, when the movers come knocking on your door in the morning. It's important to have the energy to survive moving day so instead of making the rookie mistake of sleeping in on moving day, remember to go to bed earlier than usual on the previous day.
Be careful what you wear on the Big day
If you've never had to go through a moving day until this moment, then one moving day mistake you are likely to make is to not think about how you should dress up for the most dangerous day in the entire relocation.
Be mindful that what you wear on moving day is more important than you think. And no, we're not talking about any fashion trends here – we're talking about the critical aspect of moving day safety.
First of all, you should choose clothes that fit you well (non-baggy pieces of clothing) and are comfortable enough to give you unrestricted freedom of movement when you're tackling most of the moving day jobs.
And secondly, don't forget to wear your closed-up shoes that have anti-slip soles and possibly some sort of ankle protection as well. In most cases, a high-quality pair of sports shoes should do the job.
Avoid wearing any long jewelry pieces that may get hooked up on something and get damaged because of it.  
Finish up any small packing jobs
Once you're out of bed and dressed up appropriately for the occasion, make sure you finish up all the small packing tasks that you had to leave for moving day.
In the best-case scenario, you'll have a few boxes left to fill up and seal safely for the road ahead. Usually, those will be some essential kitchen items and bathroom items (toiletries, for example) that you intended to use on the morning of moving day.
Speaking of essential items, double-check whether your essentials boxes are all packed up and ready for transportation. Remember that those Open-First boxes will travel with you, either in your car when you're driving to the new home with your own vehicle or in the rental truck if you've chosen to move on your own.
If you have requested the extra service of packing from your full-service moving company, then the pro packers will pack up your things for you, quickly and safely. Nevertheless, you should still pack up those few essentials boxes by yourself – at least one box for each family member.
Keep your valuables close by
One of the most important things to do on moving day is to keep a close eye on your valuable items and make sure they stay with you at all times. It would be a serious mistake to part with your valuables – for example, to either entrust them to your movers or to let them be loaded onto the moving truck by mistake.
Valuable items include but are not limited to jewelry pieces, watches, small electronic devices (including your laptop), cash, documents, collector's items, and so on. When transporting large valuables – such as your flat-screen TV or piano, you should always purchase extra insurance for them, either through your moving company or directly from a third-party insurance company.
Make safety your top priority
Moving day is notorious for being dangerous, especially when you've decided to try to manage it on your own instead of hiring professional moving services. Therefore, whenever you're about to move house, your top priority should always be to guarantee your safety and the safety of your loved ones.
Follow these safety tips for surviving moving day with no accidents of any sort:
      Walk along the intended exit paths and make sure they are clear of any obstacles that might compromise moving day safety;

      Use a moving dolly to wheel all heavy household items out of the home and load them onto the moving vehicle;

      Use proper lifting techniques when lifting and carrying heavy stuff in order to prevent personal injuries;

      Keep your young children and pets away from the packing and moving action. Also, ask a person you can trust to supervise them while you're busy with the numerous moving day task;

      Remember to wear the proper type of clothes and shoes as explained above. What you wear on moving day matters more than you think in terms of both comfort and safety.
 

Be a considerable host
When using the services of a top-rated moving company, you should make an effort to show yourself as a considerate host when they arrive in your home on moving day.
      Show the pros around the home and give them any last-minute instructions, if necessary;

      Stick around the movers in case they have any questions or if issues of some sort should arise. Generally speaking, you should let them do their work as they are supposed to know what they are doing;

      Consider preparing non-alcoholic beverages and delicious snacks for them to keep their energy up throughout the move;

      Provide easy access to the bathroom and have liquid soap and disposable paper towels for better hygiene;

      Prepare some tipping money in case your movers do a great job packing and loading your possessions in the fastest and safest way possible. It's always a good idea to reward the efforts of hard-working professional movers.
How to Prepare for Movers: Things to Do Before Your Movers Arrive