Packing for a move: How to go about it
You've found a new place to live, you've rented a moving truck, and now all you have to do is pack up your entire life before hitting the road. And suddenly it hits you: do you really want to bring all of your stuff with you?
One of the most daunting—and often emotionally draining—parts of moving is packing. But when you approach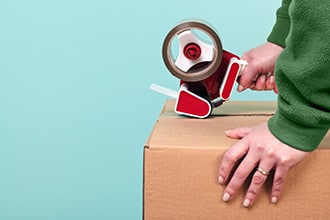 it with the same can-do attitude as the rest of your move, packing can be easy, and when you get rid of a bunch of things you no longer need, even liberating! The following five tips on packing will help you sort through your stuff in no time at all.
Donate or recycle heavy items – if you own heavy, bulky items that are damaged or you simply don't use, it might be time to get rid of them. Find out if a local charity could use them or put up an ad on Craigslist.
Keep those items that allow you to function immediately in your new place – it's a matter of common sense, but you should always keep enough kitchenware, bed linen, towels, and other items you need to get through the day. At the same time, make sure to keep your entertainment system and any items you need for work or study.
Packing tips
Packing up an entire home always takes more time than you think and it's likely that you'll forget something important. That's why maybe the best piece of advice is to follow a detailed packing and moving checklist.
Nation Capital Movers offers professional packing services performed by experienced and knowledgeable packers who just know what it takes to protect all kinds of household items for a relocation journey across the country. You get professional packing supplies for your prized possessions as well. Contact us today to receive a price quote.
Packing for a move is the most time-consuming task you'll have to deal with prior to moving out, so it's relatively easy to get confused in the process and lose a great amount of time to get back on track. Create a packing calendar or include all the packing jobs in your current moving timeline to keep things running smoothly.
Get your hands on quality packing materials before you start the packing marathon – professional packing supplies are the best ones and you will get them if you choose pro packers to handle that tough job. When packing on your own, do the sensible thing and find free cardboard boxes or purchase all the materials brand new if you can afford it.
As mentioned above, it's important to begin the packing task ASAP, but do you know which room to pack first? And then, what to pack first to gain a time advantage? Items in the storage areas of your home should be sorted out and packed up first, followed by the things present in your guest rooms, living room, kitchen, bedroom, and bathroom. Don't underestimate the time you'll need to pack a storage area such as a garage, a basement, or an attic.
Have you got a business? Then you might need to move your business with you to your new destination state.
Don't make the packing mistake of packing absolutely everything you own. Instead, dedicate some time to sort out your household items to save time and money later when you start wrapping and boxing them for the haul. Form three categories: 1) items to be discarded and recycled, 2) items to be sold, given away or donated (you can use Craigslist for the job), and 3) items to be packed.
It's important to understand that packing up your home will take you plenty of time, usually days, so you can't expect to finish that arduous job in one single try. Consult your packing calendar regularly and pack at a pace that will guarantee a successful finish before the day of the move.
Regardless of how you have acquired your cardboard boxes, don't forget to tape their bottoms once more as an extra precautionary measure. Use only strong and dry cartons that have no visible signs of any type of damage.
Remember a major safety rule when packing for a move: large and medium-sized cardboard boxes should be used for transporting lighter items, while small boxes are ideal for the heavier items you own, like books, for example. Disregarding this rule could lead to untimely damage to your stuff.
All valuables you own should stay with you throughout the move. If a valuable item is too big or heavy for you to transport safely, then consider purchasing additional moving insurance to stay on the safe side of things. We, at Nation Capital Movers, will be happy to consult you on how to pack and move any items of high monetary or sentimental value.
Use plenty of padding materials such as soft packing paper and bubble wrap when packing fragile items for moving. Be careful when wrapping up your breakable glass or porcelain items, make sure the cardboard boxes are extra strong (double-walled), fill the containers with wads of paper, old pieces of clothing, or towels to prevent the fragile things from shifting inside. Label the boxes appropriately.
Prepare a few essentials boxes with things you just have to have until you get reunited with your other household items. You are responsible for packing up and transporting such survival boxes as they should stay with you at all times. Things you should consider packing in the so-called Open-First boxes: food and kitchen essentials, bedtime essentials, bathroom essentials, prescription medicine, basic hand tools, a change of clothes for each family member, and so on.
Some items are deemed dangerous and therefore are not allowed to be packed for moving. In other words, professional moving companies will not agree to transport them for you, and you shouldn't try to do it yourself as the risk will be too high. Such non-allowable items include flammables, explosives, chemicals, medications, perishable items. Things not allowed to be packed for shipping also include pets and plants – their transportation rests with you.
Labeling your packed boxes is important as it will eliminate possible mistakes, confusion, and waste of time. Label each box with its content, destination room, and any handling instructions to make things safer and easier for everyone.