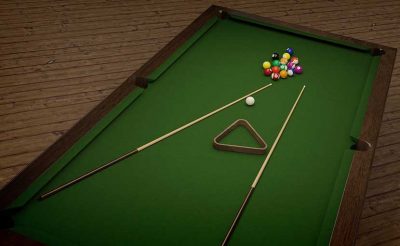 If you are planning to move to a new home and you don't know how to deal with the relocation of your pool table, then this guide is perfect for you. Being able to play a nice game of pool at home with your friends or by yourself whenever you want to is a great way to relax after a tough and exhausting day at work – who wouldn't like to have a pool table at home to play for hours. Having one is wonderful, but moving it – not so much.
Moving a pool table is a very hard and complex process in which many things may go not according to plan. The difficulty comes mainly from the weight and the size of the pool table. It is as hard as moving a piano. This complex task requires special equipment, tools, and knowledge in order to relocate your pool table safely to your new location – whether you're moving it a few blocks away or across the country.
Before you begin this rough journey, you will have to decide whether you will be moving your pool table by yourself or you will be hiring a professional moving company for the job. If you want your pool table to arrive safely and without any damages at your new home, you should use the moving services of a licensed pool table mover. This way you will avoid hurting yourself or breaking your expensive billiard table.
How much does it cost to hire professional pool table movers?
If you have decided to go through the safer route and leave this difficult task to a reputable mover, then you must be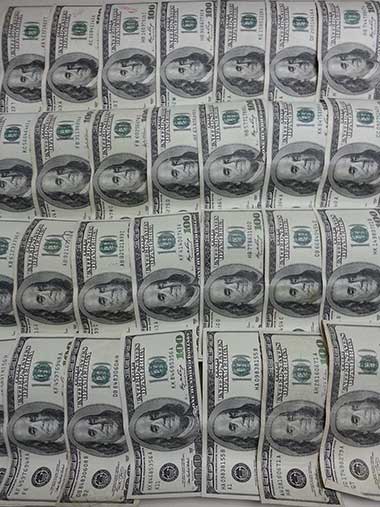 aware of the factors that can affect the overall cost of moving your billiard table. Here is a list of the main factors:
Distance

– this is one of the major factors that affect the price. Also, you may be charged extra for the number of stairs on which the movers will have to go up or down.

Make of the billiard table

– when you ask for a price estimate, you must say what is the brand and model of your pool table. Each one needs to be disassembled and reassembled in a specific way.
For example, if you own a vintage Brunswick billiard table, it must be moved very carefully and with caution because the table is old and expensive. If the pool table is an antique one such as the above mentioned, you may have to pay more for its relocation when compared to a modern Olhausen billiard table because handling it will be more difficult.
Ball return system and pockets

– moving a pool table with a ball return system will be more expensive than moving a drop pocket billiard table. Also, the price may vary whether the table has leather or plastic pockets.

Size

– the most common sizes of pool tables are:

7 ft.

– this is the size of most coin-operated billiard tables that you can find in bars.

8 ft.

– this is the most common size which you can buy for your home.

9 ft.

– this is a full-size pool table on which professional tournaments can be played.
The size of the pool table is important when you request a moving quote because, for example, a 12 ft. table requires more manpower than a 5 ft. one and it will require more time for disassembling and reassembling. On billiards.colostate.edu you can find more information about the different pool table sizes.
The position of the billiard table – if it is not set up in a standard position, you may have to pay and an additional sum. For example, if the legs of the pool table are removed and it is on its side or upside-down.
Weight of the pool table

– Depending on the size and the material from which the playing surface is made, the weight can vary from

180 pounds

for a

6ft.

wood pool table to

2500 pounds

for a

12 ft.

slate pool table. Keep in mind that in the modern era the playing surface of billiard tables is usually made of slates. Only the slate for a typical pool table can weigh between

400

to

600 pounds

with a thickness of

3/4 of an inch

to

1 inch

. Also, the number of slates can be one or three (the vast majority of pool tables are designed for three).
When we take all of these different factors under consideration, moving a pool table can cost you roughly from $200 to $600. If you want your cost estimate to be as accurate as possible, you must mention all of these details about your billiard table.
What will you need before you start moving your billiard table
Proper tools and equipment

– In order to move your pool table from one house to another, you are going to have to disassemble it before you load it on your truck and then reassemble it in your new home. Here is a list of the tool that you are going to need:

A

staple remover

or a

pair of needle-nose pliers

so that you can remove the felt from the playing surface of the pool table.

A

set of flat-head screwdrivers

, a

socket wrench

, and a

power drill

to take the billiard table apart.

A

carpenter's level

– you are going to need this when you put your pool table back together to ensure the stability of the playing surface.

A

pair of safety goggles

to ensure the safety of your eyes.

A

moving dolly

to move the heavy slabs of slate around. You have to be very careful with them because they can easily be chipped, cracked, or heavily damaged.

Instruction manual

– If you keep the original instruction manual that you got with your pool table, that is great. You can follow all of the instructions to properly disassemble and reassemble your billiard table. If you don't have that manual, you can try to find an online manual by searching for your specific model or you can just follow these basic instructions that you're going to find below.

Packing materials

– moving blankets, bubble wrap, plastic bags, sheets of packing paper, and packing tape. Make sure every disassembled part of the pool table is packed safely so that you won't lose something or break any part during its relocation.
Trustworthy friends – you are going to need the help of at least five of your loyal friends to accomplish this difficult task. Don't start anything until your friends arrive. Billiard tables are very heavy and bulky items, but at the same time, you can damage them very easily and one wrong step can break the entire table (you and your team can also get hurt in the process). If you can't find help, consider calling a professional pool table mover.
With the group effort of you and your loyal friends, you can accomplish this difficult task of moving your favorite pool table to your new home.[/caption]

Time

– make sure you and your faithful friends have enough time to complete this lengthy and hard task. You should not rush anything and execute every step of the moving process carefully.

Measure the path of the pool table

– you will have to measure all of the doorways, staircases, hallways, and any other place that you think might be a problem when you are moving the pieces of your pool table.

Rent a moving truck

– billiard tables are large and bulky items and even when they are disassembled, you're still going to need a moving truck to transport it from your old home to your new one.
How to move a pool table by yourself
Step 1 – Disassemble your favorite pool table
Remove the ball pockets – the first step in this long process is to remove the six side pockets of your pool table. The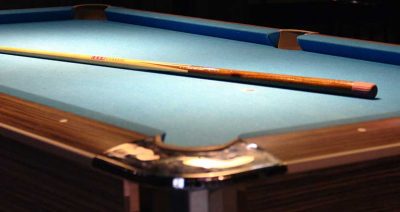 pockets are either stapled or secured with screws (you have to check your model). You can remove them by either taking a staple remover to take out the staples or the proper screwdriver to remove all of the screws. Don't forget to wear your safety glasses.
Remove the side rails – use your socket wrench to loosen and remove all of the bolts. Once you have unscrewed all of the bolts from the side rails, remove each of the side rails carefully with the help of your friends and then place them on moving blankets so that later they can be perfectly packed. Place all of the bolts, screws, and other small pieces in separate plastic bags and label them so that you can know from where did you get each piece.
Carefully detach the felt – this step is very crucial if you want to keep the felt and use it again. The felt is either glued to the table or stapled. If it is glued, pull the edge of the felt backward very gently and try not to rip it apart. If it is stapled, remove each staple with a staple remover and again very carefully.
After you have removed the felt, it can be gently folded and packed away. Before you start removing the felt, take into consideration what is its current condition. If it is too worn out, you can just replace it when you are assembling your pool table at your new home and not waste time trying to carefully remove the old felt.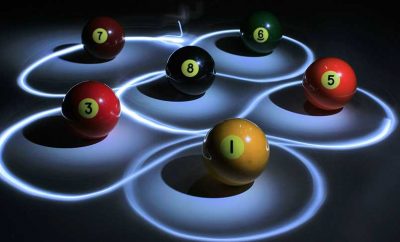 Lift the slate or slates from the frame of the table – now comes the hardest and the most dangerous part. The slate will probably be screwed down and you can take a power drill to remove the screws. Put the screws again in a plastic bag and place them next to the other small pieces. If your table has only one slate, be extremely cautious because it can weigh up to 600 pounds or more.
Make sure all of your trustworthy friends are prepared before you start lifting these heavy slates or slate. Once you have lifted them off the frame of the billiard table, place them on the ground over a thick moving blanket. Keep in mind that if your pool table consists of for example three slates and you break one of them, you can't buy only one, because the slates are perfectly matched for each other and you will have to buy three new ones.
This will greatly hit your budget and increase your moving expenses. If you are not sure that you and your team can handle these heavy objects, it is safer both for you and your pool table to call a reputable mover to do everything for you.
Separating the legs from the frame – this is a simple and easy step when compared to the previous one. You and your friends just have to flip the frame upside down and remove each leg from it. Also, you can remove any part of the frame that can easily be detached. 
If you have trouble following our detailed steps for how to dismantle a pool table, you can take a look at this video. You are going to see how an actual billiard table is being taken apart.
Step 2 – Prepare and pack your pool table for moving
You will have to properly pack and protect each and every part of your disassembled billiard table because the pieces can easily get broken during their transportation to your new home. You have gone through all of this trouble to take apart the entire pool table and you surely don't want to waste everything by doing a poor job with the packing process.
Every drop pocket of the pool table and every ball must be wrapped in packing paper. If you still have the original box of the balls, you can place them inside. You can put all of your billiard table accessories such as triangle, chalk, and others in a labeled cardboard box. If you don't have the original protective bags of your wooden pool cues, you can also wrap them in packing paper.
You must cover all of the big disassembled pieces such as the slates, the frame parts, the rails, and legs in thick furniture blankets. All of the small pieces such as screws and nuts can be placed in plastic bags with labels.
Step 3 – Load the disassembled billiard table on the moving truck
You and your loyal friends won't have any problems loading the pieces of your pool table on the truck, but again you have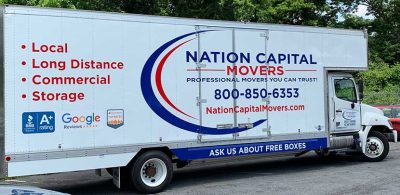 to be very cautious with the slates. One wrong step can cause an injury to you, your friends, or damage to the pool table. You can use a 4-wheel furniture dolly to move the heavy slabs of slate and other heavy parts from your house to the ramp of the moving truck. Also, you can use lifting straps to lift the heavier pieces off the ground such as the slates. All of the parts of the billiard table must be heavily secured in the moving truck during transportation to avoid any damages and the driver should be very careful while driving.
Step 4 – How to set up a pool table after the move
For this final step, you are again going to need the help of your reliable friends (don't attempt anything without them). If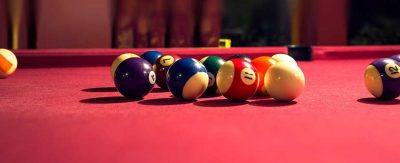 there is nobody to help you with reassembling your favorite pool table, you should call a professional moving company to help you with this task. Not it's time to put the pool table back together. Basically you have to do the disassembly process the opposite way. 
Start by flipping the frame of the table upside down and put the legs back in their places and any other pieces of the frame that you have removed. Next, you will have to put the heavy slabs of slate back in their places and you have to check their position. With a carpenter level, you can test their horizontal alignment. Make sure you test the center of the pool table and all of its sides. If the floor level in the room is not perfect, you may need to adjust each leg of your billiard table. After all the adjustments, check again the position of your table with a carpenter level.
Next in the reassembly process is putting the felt back in its place. This part can take a long time. Maybe as much time as it took to level the table. Make sure there aren't any bumps, folds, or air pockets that can mess up your game later. Using a rolling-pin can help you avoid their formation. The final thing that you will have to do is place the rails in their original spots (try not to damage or twist the felt ) and reattach the side pockets.
Should you move your pool table by yourself
After reading about this lengthy process and all the risks that it hides, are you still up for the task? Moving a pool table is not a  joke. It's much more difficult than moving a couch or any other item in your home. It is as hard as moving a piano. Due to the extraordinary weights of some of the parts of your billiard table, there is a chance that you might injure yourself, one of your friends might get injured or damage may occur on your favorite pool table. If you want to avoid all the risks and complications that this moving process hides, call a reputable pool table moving company.